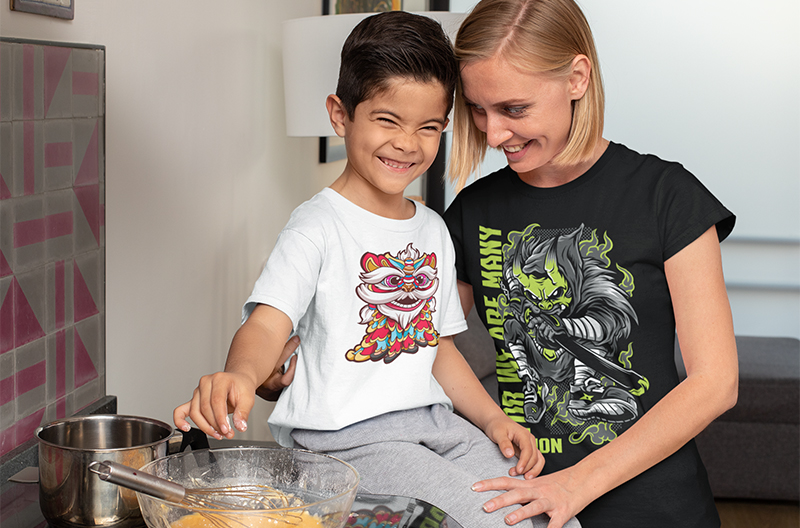 The badge "Personalized Products" indicates that this product can be personalized for our customers. We offer a wide range of products which can be customized by changing the text to make it personal.
Personalized Text
Among other things, we offer a selection of children designs, which can be made personal by adding the name of the child or maybe a funny quote.
Watch our video guides here:
Personalized Image
Do you have an image you wish to have printed on a shirt or a poster, this is also possible to make in our store.
Watch our video guides here:
[insert video]
Do you need help making a personalized product, you are welcome to contact us, and we will see if we can accommodate your wishes.
---
PERSONALIZED PRODUCT DISCLAIMER
When making a customization to a personalized product, the product is not eligible for refund, compensation or replacement, the exception to this rule, is if the product itself is faulty or if there has been made a mistake in the printing process by our manufacturer.

Each item bought, personalized or not, on LegionShop.dk is made specifically for you, the customer. Therefor we can't stress this enough, please make sure to choose the right size (use our size guides) and color for your product, and in the case of personalized products remember to spell check every name/ word.

If you make a personalized product with your own image, it is imperative that your image is in high resolution. The ideal resolution is 300 DPI, but higher is always better. This of cause is your responsibility to secure.

Did you contact our inhouse staff to get help with your personalized products, the above mention is still valid and your responsibility to make sure images are in high quality and to spell check every word. When we have made your product, you will get a link for the agreed upon product to review. If the design is approved, we would appreciate you ordering the product, as our staff have put much effort in accommodating your wishes.
LegionShop.dk do not take responsibility for the following: copyright infringements, hateful or racists statements, imagery or images. We reserve the right to cancel any order.